According to the data from comScore in April 2017, 53% of Wi-Fi connected households in the U.S. are using at least one over-the-top streaming service, with Netflix being the primary choice.
According to that research, Netflix is the primary choice across these households with 75%; but there is a significant competition knocking Netflix's door. YouTube has 53% of range, followed by Amazon with 33% and by Hulu with 17%.
Two things are clear — Cable TV is dying, and the digital television is growing with a large competition. This shift creates a couple of questions;
1. How is the customer experience of digital television companies? Which company is the Apple of this industry?
2. What are the primary channels for watching TV shows and movies?
3. What are the exclusive percentage of customers of digital television services?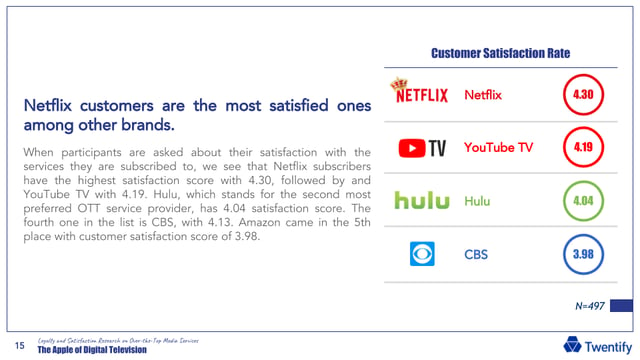 We have researched the answers to these questions with 497 consumers on our Bounty platform. On this research, consumers are asked about their previously used services, currently subscribed services, the primary channel for their TV show/movie consumption, and their satisfaction with subscribed platforms.
By reading this 22-pages long research report, you can learn;
Which brand has the highest satisfaction score among its competitors,
Exclusivity and stickiness rates of OTT brands with age breakdowns,
Which brands are stealing audience from each other,
How are brands standing against each other regarding market reach?
We have generated insights and suggestions for you according to the state of the market, for you to execute consumer-oriented tactics.
To access the report, use the form at the right and share your contact information with us.